Sunday, 20th January2019
Walk:
Worsaw End House, Scout Cairn, Big End, Buttock, Lower Ogden Reservoir, Barley, Pendle House, Downham Moor, Clay House
Start Point:
Downham Car Park
Grid Reference:
SD 784 440
Distance:
10.5 miles
Ascent:
2,700 feet
Time:
6.25 hours
Weather:
Changeable with rolling mist and sunny spells
Comments:
As we haven't done much climbing recently all three of us found the climb to the Scout Cairn quite tough. There was quite a lot of snow and ice around on the top section but lower down the footpaths were quite muddy. The rolling mist cleared intermittently to give us good views, mainly to the east. An enjoyable day - getting back to the more strenuous stuff!
Mist hangs in the Ribble Valley . . .
Worsaw Hill from the climb to . . .
the Scout Cairn . . .
where we enjoyed a spell of sunshine for our elevenses stop
The final wall before Big End, a kissing gate has replaced the ladder stile . . .
and a shelter has been built
Haven't noticed this sign previously but there were a few on the route today
The path to Big End has been upgraded to try to keep people off the grass . . .
but it has a rather rough surface with lots of protruding rocks
Another sunny spell . . .
at Big End . . .
which was really busy today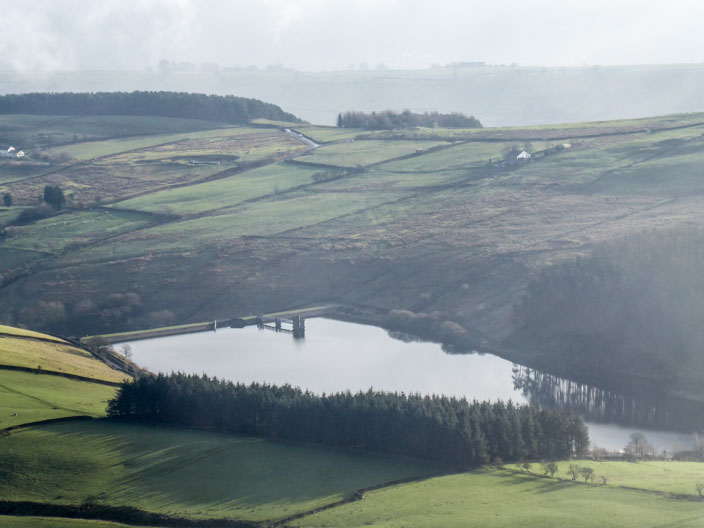 Lower Ogden Reservoir . . .
and the Black Moss Reservoirs
Spotted between the two Ogden Reservoirs?
Heading down past Lower Ogden Resevoir
Haven't spotted this interesting tree before . . .
but I usually do this walk in the opposite direction
Still busy as we head back up Pendle Hill on our way back to Downham