Sunday, 17th February 2019
Walk:
Linton Falls, Threshfield, Skirethorns, Height House, Conistone Bridge, Conistone Dib, Dales Way
Start Point:
Grassington NP car park
Grid Reference:
SE 002 637
Distance:
11 miles
Ascent:
1,670 feet
Time:
5.5 hours
Weather:
Dry and mainly overcast with a cold breeze
Comments:
A varied route needing careful navigation in a couple of places, especially where a section of field had been fenced off and a new stile added.
Linton Falls is a popular waterfall on the River Wharfe and is located at the foot of Sedber Lane which drops down to the river from Grassington. Although fairly modest in height it is the largest waterfall on the River Wharfe.
Conistone Dib is a narrow dry gorge created by post glacial floodwater and leads upwards from the village green through Gurling Trough to an area of spectacular limestone scenery.
Returning along the Dales Way made for easy walking even though there was a facing wind. A very enjoyable walk.
A small weir can be seen in the distance
but a larger curved weir precedes the main waterfall . . .
where the river is forced between limestone outcrops immediately below the bridge.
The constriction of the previously wide river, combined with the small drop in height,
creates a dramatic scene, particularly after spells of rain.
We were surprised to see a mini murmuration of starlings at 11:25am as we approached
Malham Moor. This phenomenon is more often seen as the birds prepare to roost
but it is thought that it may also occur as a form of protection from predators.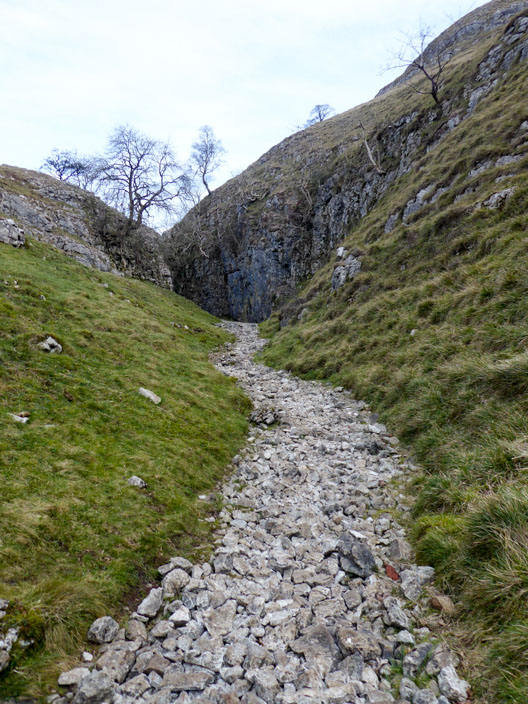 Walking along the stony track . . .
the gorge narrows . . .
to create a special atmosphere . . .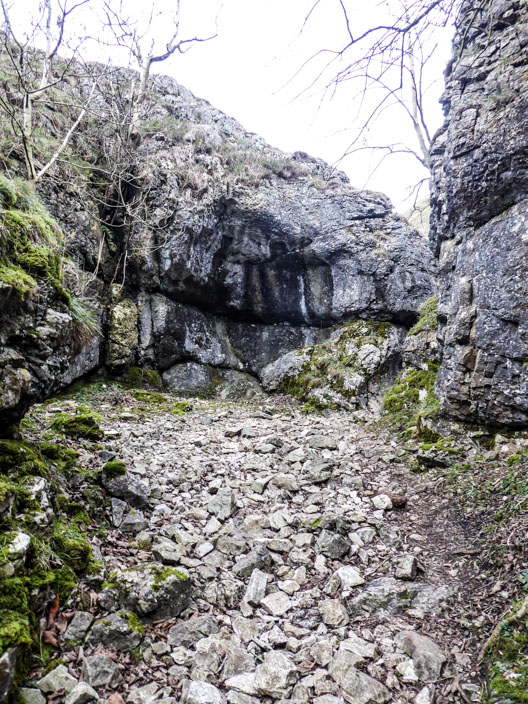 and after turning the corner . . .
the smooth limestone shows where the water used to flow . . .
into the gorge
The valley then opens up to a lovely green path . . .
and provides a great spot for lunch . . .
before the scramble . . .
takes us out of the valley . . .
leaving my favourite part of the walk
Looking back down the final rocky scramble . . .
and the wider part of The Dib